WASHING ARTIST
At the service of who makes washing a profession, it will never permit presence of rings. It reduces drastically the use of rinse aids and detergent in Ho.Re.Ca field. In other sectors it'll make life easier where using finely osmosed water is necessary. 120 l/h and an inner pressure tank of 24 l of treated water satisfy every type of required washing cycle.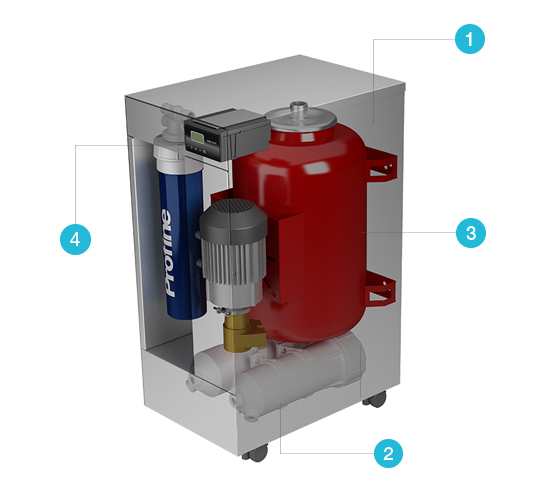 1. IT MOVES WITH YOU:
Easy:Wash is designed with dimensions compatible to needs of the world of hotels, restaurants and catering, and all those sectors in constant motion. It is equipped with wheels that allow to move easy to be cleaned or for other needs . The movement of Easy:Wash is matched with its solidity, in fact the wheels, once locked, ensure maximum stability of osmosis system also in processing stage.
2. GET WHATEVER YOU WANT:
With Easy:Wash you can expect exactly what you need, both in flow rate of water and in duration of flow. Two variables that make Easy :Wash a reverse osmosis system dynamic and contemporary. All this is possible thanks to its internal modular structure.
3. A GRAND RESERVE:
With a pressure tank of about 24 litres of internal volume, Easy:Wash has an important water reserve. So much to allow it to meet the need for treated water of all those machines that work in cycles. Furthermore the water reserve at its disposal enables it to sustain continuous supply cycles, close to an adjustable output pressure.
4. THE DISPLAY SPEAKS:
As the whole line "Easy", also Easy:Wash is equipped with a control unit with display where any person can check the proper functioning of osmosis system. In particular: reading the residual value of the conductivity, the autonomy of filter, the hours of system operation. Alarm signals indicate lack of pressure and prevent leakage.
TECHNICAL SHEET
EASY:WASH
Reverse osmosis system with pressure storage tank (24 l) inside outlet water pressure from 0,5 to 3 bar.
Applications
Every industrial and professional applications Ho.Re.Ca., pharmaceutical, cosmetic, food industry, chemical, analysis. Dish/glass washers with pressure boiler (without rinse pump). Max consumption 3 l each 2 minutes.
Electronic control
Inner perfiltration Profine®
flow rate of 120 l/h at 15°C
flow rate of 80 l/h at 15°C 3 bar back pressure
230V 50Hz
Connections
in 3/4"M – BSP out 3/4"M – BSP
Drain
6 mm quick fitting
Permeate auxiliary
10 mm quick fitting
Dimensions
299 x 443 x 697 mm
 

EASY:WASH standard SPECIFICATIONS
Width x Depth x Height (mm)
(escluso attacchi)
299x443x697
Weight (kg)
30
Approved Decibel Level under normal operating conditions (dB (A))
<70
Membranes (no. 2)
TWG1A1
Carbon filter (internal)
PROFINE® BLU medium

WATER SUPPLY SPECIFICATIONS

Water type
Potable
Maximum hardness (°F)
30
Maximum temperature (°C)
30
Minimum inlet flow rate (l/h)
400
Maximum inlet pressure (bar)
6
Minimum inlet pressure (bar)
1

POWER SUPPLY SPECIFICATIONS

Power supply type
MONOPHASE + GROUND
Voltage (V)
230
Frequency (Hz)
50
Adsorbed current (A)
2.5
Power (W)
250
Fuse type electronic board
F5A
Fuse type electric connector
F4A

PERMEATE WATER SPECIFICATIONS

Maximum capacity at 15°C (l/h)
120
Flow with pressure at 3 bar, 15°C (l/h)
80
Recovery (%)
40

CAPACITY AND SUBSTITUTION FREQUENCY

Carbon filter PROFINE® BLUE medium (l)
15.000
R/O Membranes
UPON CLOGGING
Vane pump and solenoid valve
2000 hours

ENVIRONMENT SPECIFICATIONS

Maximum relative humidity (%)
90
Minimum external temperature (°C)
3
Maximum external temperature (°C)
40