FLOW RATE CHAMPION
Easy:Blue is reverse osmosis system with the higher schedule production of finely treated water in equal sizes, thanks to 240 l/h in 0,05 sq.m. Plastic front is easy to remove and so it allows an easy access to motor, pump and electronics.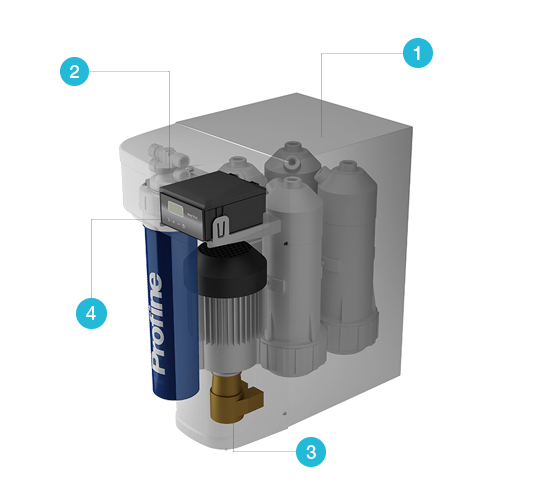 1 . INTENTION: THE FIRST IN THE CLASS,
it isn't afraid of rivals, there is no competition, Easy:Blue, despite the small size, produces an amount of osmotic water that was unimaginable up to now, at last it is the ideal solution for those that are in a hurry to supply at low cost.
2 . A FORCE OF NATURE WITH PROFINE:
the choice of having installed Profine cartridges for pre-filtration, confirm the certain quality of osmotic water that Easy:Blue gives. Additionally, the brand Profine® allows quick and easy maintenance because Profine® filters are quick to connect.
3 . COMPROMISE: NO THANK YOU!
It is equipped with the best ideas of intelligent features designed for maximum performance. No compromise in order to manage with safety and practicality your own requirements to have finely treated water. Easy:Blue is the ideal system for major utilities that need up to 4 litres per minute.
4 . ELECTRONICS: ALL INCLUSIVE.
By a display, you can read the value of the residual conductivity, the autonomy of filter, the hours of system operation. Alarm signals indicate lack of pressure and prevent leakage.
TECHNICAL SHEET
EASY:BLUE
High flow reverse osmosis system, easy maintenance with frontal access.
Applications
Every industrial and professional applications Ho.Re.Ca., pharmaceutical, cosmetic, food industry, chemical, analysis. Dish/glass washers with atmospheric boiler and rinse pump. Max consumation 8 l each 2 minutes.
Electronic control
Inner perfiltration Profine®
flow rate of 240 l/h at 15°C
230V 50Hz
Connections
in 3/4"M – BSP
out 3/4"M – BSP
Drain
8 mm quick fitting
Permeate auxiliary
10 mm quick fitting
Dimensions
271 x 408 x 451 mm
 

EASY:BLUE standard SPECIFICATIONS
Width x Depth x Height (mm)
(without fittings)
271x408x451
Weight (kg)
25
Approved Decibel Level under normal operating conditions (dB (A))
<70
Membranes (no. 4)
TWG1A1
Carbon filter (internal)
PROFINE® BLU medium

WATER SUPPLY SPECIFICATIONS

Water type
Potable
Maximum hardness (°F)
30
Maximum temperature (°C)
35
Minimum inlet flow rate (l/h)
600
Maximum inlet pressure (bar)
6
Minimum inlet pressure (bar)
1

POWER SUPPLY SPECIFICATIONS

Power supply type
MONOPHASE + GROUND
Voltage (V)
230
Frequency (Hz)
50
Adsorbed current (A)
2.5
Power (W)
250
Fuse type electronic board
F5A
Fuse type electric connector
F4A

PERMEATE WATER SPECIFICATIONS

Maximum capacity at 15°C (l/h)
240
Recovery (%)
40

CAPACITY AND SUBSTITUTION FREQUENCY

Carbon filter PROFINE® BLUE medium (l)
15.000
R/O Membranes
UPON CLOGGING
Vane pump and solenoid valve
2000 hours

ENVIRONMENT SPECIFICATIONS

Maximum relative humidity (%)
90
Minimum external temperature (°C)
3
Maximum external temperature (°C)
40