ENTRY LEVEL FOR A PERFECT GLASS
Easy:Glass is the "ENTRY LEVEL" of "easy" system designed for glasswashers without break tank. 75 l/h and a pressure tank of 18 l make it ideal to satisfy requests of small professional glasswashers.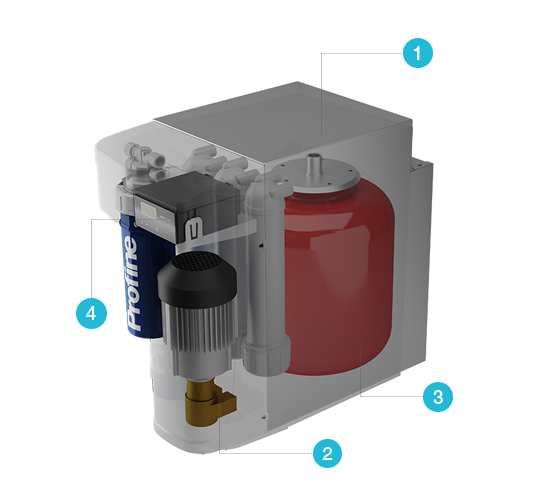 Similar in size and shape to Easy:Blue, it is actually the smallest and cheapest of the line of osmosis systems dedicated to the world ho.re.ca., but not only, in fact, equipped with an hydraulic system easily adaptable to different needs, lends itself to flexible uses in all professional and industrial applications for small users.
2. MAXIMUM FLEXIBILITY:
Easy:Glass has been designed in its inside like a game. Its modular interior layout allows you to refine the performance and the outflow depending on the needs of users. High flow rate of water, or constant flow? With Easy:Glass there is no problem: it is adaptable to any situation.
3. A LARGE RESERVE:
Easy:Glass is equipped with a pressure tank of 18 liters. The water reserve at its disposal enables it to sustain continuous supply cycles, close to an adjustable output pressure. This is a key feature that makes Easy:Glass the perfect osmosis system to meet the need of treated water of all those machines that work in cycles.
4. 100% UNDER CONTROL:
As the whole line "Easy", also Easy:Glass is equipped with a control unit with display where any person can check the proper functioning of osmosis system. In particular: reading the residual value of the conductivity, the autonomy of filter, the hours of system operation. Alarm signals indicate lack of pressure and prevent leakage. You can set the autonomy of the pre-filter based on the model installed.
TECHNICAL SHEET
EASY:GLASS
Reverse osmosis system with pressure storage tank (18 l) inside outlet water pressure from 0,5 to 3 bar
Applications
Every industrial and professional applications Ho.Re.Ca., pharmaceutical, cosmetic, food industry, chemical, analysis. Dish/glass washers with pressure boiler (without rinse pump). Max consumption 2 l each 2 minutes.
Electronic control
Inner perfiltration Profine®
flow rate of 75 l/h at 15°C
flow rate of 50 l/h at 15°C 3 bar back pressure
230V 50Hz
Connections
in 3/4"M – BSP out 3/4"M – BSP
Drain
6 mm quick fitting
Permeate auxiliary
10 mm quick fitting
Dimensions
271 x 499 x 451 mm
 

EASY:GLASS standard SPECIFICATIONS
Width x Depth x Height (mm)
(without fittings )
271x499x451
Weight (kg)
20
Approved Decibel Level under normal operating conditions (dB (A))
<70
Membranes (no. 4)
TWG1A1
Carbon filter (internal)
PROFINE® BLU small

WATER SUPPLY SPECIFICATIONS

Water type
Potable
Maximum hardness (°F)
30
Maximum temperature (°C)
35
Minimum inlet flow rate (l/h)
300
Maximum inlet pressure (bar)
6
Minimum inlet pressure (bar)
1

POWER SUPPLY SPECIFICATIONS

Power supply type
MONOPHASE + GROUND
MONOFASE + TERRA
Voltage (V)
230
Frequency (Hz)
50
Adsorbed current (A)
1.5
Power (W)
150
Fuse type electronic board
F5A
Fuse type electric connector
F4A

PERMEATE WATER SPECIFICATIONS

Maximum capacity at 15°C (l/h)
75
Flow with pressure at 3 bar, 15°C (l/h)
50
Recovery (%)
40

CAPACITY AND SUBSTITUTION FREQUENCY

Carbon filter PROFINE® BLUE small (l)
10.000
R/O Membranes
UPON CLOGGING
Vane pump and solenoid valve
2000 hours

ENVIRONMENT SPECIFICATIONS

Maximum relative humidity (%)
90
Minimum external temperature (°C)
3
Maximum external temperature (°C)
40