SELECTION TOP MUSTN'T BE DISCUSSED
Hydrobox hasn't got opponents. It's not only a system, but also a selection that you can configure depending on user requests. Adding membranes, a pressure tank or a tank with delivery pump are just some of available options that you can choice to build your own Hydrobox. Profine® Blue prefiltration is doubled to have the flow and the capacity that you need, power and reliability for every work load.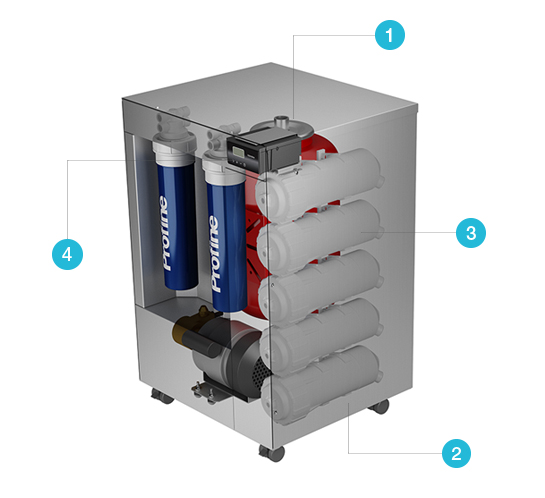 A lot of treated water without asking for a loan or equip yourself with a bulky industrial installations? This looks like wanting the moon, but it is summed up in Hydro:Box, a "box" for water designed to contain a large number of membrane that allows it to compete with traditional reverse osmosis systems designed for industry. All at low cost.
2. THE MAJOR SISTER OF "EASY" LINE:
The largest "Easy" that doesn't feel its dimensions. Also Hydro:Box, as Easy:Wash, is equipped with wheels. Four main elements that allow it to be easy to handle despite its considerable size. And not only, Hydro:Box knows how to be very firm especially during processing, simply blocking the four wheels.
3. SO MUCH FORCE AS YOU WANT:
This means that you can have many membranes as you want (up to 7). With Hydro:Box, in fact, you can decide to push yourself to the highest levels of output osmotic water. Therefore Hydro:Box can be used in situations where the flow rate and the reserve of accumulated water are essential to meet high demands.
4 . MAXIMUM POWER:
The high amount of supplied osmotic water is synonymous with quality. Osmosis membranes are, in fact, combined with a Profine® cartridge double filtration system, that is also produced by Think:Water. A tip that gives Hydro:Box the power required to increase the autonomy and the flow rate of supplied water.

TECHNICAL SHEET
HYDRO:BOX
The highest flow and easy maintenance reverse osmosis system with pressure storage tank (24 l) inside outlet water pressure from 0,5 to 3 bar, (also to 7 membranes), wheels with brake.
Applications
Every industrial and professional applications Ho.Re.Ca., pharmaceutical, cosmetic, food industry, chemical, analysis. Dish/glass washers with pressure boiler ( without rinse pump). Max consumption 6 l each 2 minutes.
Electronic control
Inner perfiltration Profine®
flow rate of 240 l/h at 15°C
flow rate of 160 l/h at 15°C 3 bar back pressure
230V 50Hz
Connections
in 3/4"M – BSP out 3/4"M – BSP
Drain
8 mm quick fitting
Permeate auxiliary
10 mm quick fitting
Dimensions
488 x 442 x 748 mm
 

HYDROBOX pressure tank SPECIFICATIONS
Width x Depth x Height (mm)
(escluso attacchi)
488x442x748
Weight (kg)
50
Approved Decibel Level under normal operating conditions (dB (A))
<70
Membranes (no. 4)
TWG1A1
Carbon filter (internal)
(no.2) PROFINE® BLUE medium

WATER SUPPLY SPECIFICATIONS

Water type
Potable
Maximum hardness (°F)
30
Maximum temperature (°C)
30
Minimum inlet flow rate (l/h)
800
Maximum inlet pressure (bar)
6
Minimum inlet pressure (bar)
1

POWER SUPPLY SPECIFICATIONS

Power supply type
MONOPHASE + GROUND
Voltage (V)
230
Frequency (Hz)
50
Adsorbed current (A)
4
Power (W)
550
Fuse type electronic board
F8A
Fuse type electric connector
F8A

PERMEATE WATER SPECIFICATIONS

Maximum capacity at 15°C (l/h)
240
Flow with pressure at 3 bar, 15°C (l/h)
180
Recovery (%)
40

CAPACITY AND SUBSTITUTION FREQUENCY

No. 2 Carbon filters PROFINE® BLUE medium (l)
30.000
R/O Membranes
UPON CLOGGING
Vane pump and solenoid valve
2000 hours

ENVIRONMENT SPECIFICATIONS

Maximum relative humidity (%)
90
Minimum external temperature (°C)
3
Maximum external temperature (°C)
40