IT NEVER STOPS!
Osmo Maxi comes from Think:Water experience to never stop! Provided with a water-cooled engine, it makes reliability its own main characteristic. It's "maxi" in performances too. With its 120 l/h, it guarantees water quality for all time that you need and from first to last litre. Profine® Blue external prefiltration is provided and included in offer.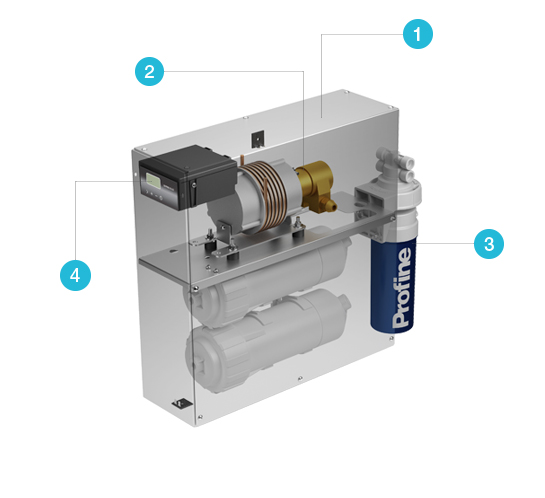 1. PERSPECTIVE: VERTICAL.
It has steel aisi 304 cabin cruiser, it is installed preferably in vertical position but also in horizontal one if you need it, access to hydraulic and electrical circuit is totally, thanks to an easy removal of lateral panel.
2. CONCEPT: STAKHANOVITE.
Flow rate of 120 l/h at 15°C, recovery of 40% and typical rejection of 95% without necessity of rest. Robust and reliable, it works continuously.
3. AIM: UNIVERSAL!
The essentiality of the project, the constructive versatility and the innovative cooling system make Osmo:Maxi suitable for all industrial applications, with no restrictions. Maintenance costs are reduced to minimum.
4. ELECTRONICS: INFORMATION IS ALL.
You can read on display the residual conductiviting value, the residual filter autonomy and operation hours of system. Alarm signals of lack of pressure from network, used-up filter and anti-overflowing. Accessing at configuration menu is easy.
TECHNICAL SHEET
OSMO:MAXI
Reverse osmosis system high flow for high workload.
Applications
Every industrial and professional applications Ho.Re.Ca., pharmaceutical, cosmetic, food industry, chemical, analysis. Dish/glass washers with atmospheric boiler and rinse pump. Max consumation 4 l each 2 minutes.
Electronic control
External perfiltration Profine®
flow rate of 120 l/h at 15°C
230V 50Hz
Connections
in 3/4"M – BSP
out 3/4"M – BSP
Drain
1/4" quick fitting
Dimensions
143 x 450 x 456 mm
 

OSMO:MAXI standard SPECIFICATIONS
Width x Depth x Height (mm)
(without fittings)
143x450x456
Weight (kg)
20
Approved Decibel Level under normal operating conditions (dB (A))
<70
Membranes (no. 2)
 TWG1A1
Carbon filter (external)
PROFINE® BLU small (recomended)

WATER SUPPLY SPECIFICATIONS

Water type
Potable
Maximum hardness (°F)
30
Maximum temperature (°C)
35
Minimum inlet flow rate (l/h)
400
Maximum inlet pressure (bar)
6
Minimum inlet pressure (bar)
1

POWER SUPPLY SPECIFICATIONS

Power supply type
MONOPHASE + GROUND
Voltage (V)
230
Frequency (Hz)
50
Adsorbed current (A)
1.4
Power (W)
180
Fuse type electronic board
T3.15

PERMEATE WATER SPECIFICATIONS

Maximum capacity at 15°C (l/h)
120
Recovery (%)
40

CAPACITY AND SUBSTITUTION FREQUENCY

Carbon filter PROFINE® BLUE small (l)
10.000
R/O Membranes
UPON CLOGGING
Vane pump and solenoid valve
2000 hours

ENVIRONMENT SPECIFICATIONS

Maximum relative humidity (%)
90
Minimum external temperature (°C)
3
Maximum external temperature (°C)
40