WHAT AN INDUSTRY YOU SPEAK ABOUT!
It's versatile, efficient, industrial, performing. TWB is reverse osmosis system that you can adapt to every industrial requests. High rejection membranes, control electronics for high power loads, industrial conductivity meters and many more technical characteristics make TWB selection the unique cabined system that is adaptable to every application and work environment in pharmaceutical and industrial field.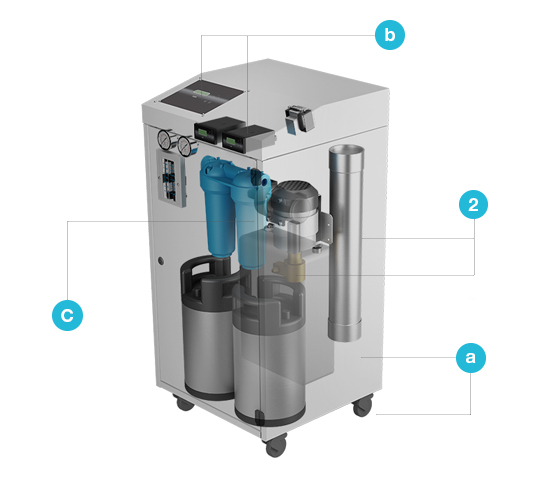 1. INDUSTRIAL TARGET: Think Water Box is designed in every detail to meet the requirements of reliability and performance in industrial processes. Each component is the maximum level compared to its range, in particular:
a. COATED BOX INSERTABLE IN EVERY ENVIRONMENT: the reverse osmosis system TWB is assembled in a cabin box made with painted steel and wheels with brakes.
b. ELECTRONICS AT THE TOP: TWB is serious and manages complex situations. TWB in fact is prepared for each type of use and by the large display you can maintain efficient membranes thanks to automatic flow of dosage against scales, the eventual filling of water tank and control the efficiency of the work performed thanks to the double conductivity probe and finally the possible alarm signal coming from the outside.
c. HIGH QUALITY PREFILTRATION: the choice of brand Profine® for prefiltration of water represents the highest quality and ease of maintenance. The Profine® cartridges, in fact, give a certain degree of filtration and are made in Italy, therefore they are installed on the machine thanks to a quick attack.
2. PREPARED TO ALL: it's possible to equip the interior of TWB of: a water softener, a storage tank with multi-stage booster pump, metering pump, bottles with demi resin.
TECHNICAL SHEET
TWB
The high rejection reverse osmosis system coated box for finest water treatment in industrial and professional applications.
Applicazioni
Every industrial and professional applications Ho.Re.Ca., pharmaceutical, cosmetic, food industry, chemical, analysis.
Flow rate
from 100 to 400 l/h at 15°C depending on version.
230V 50Hz
Dimensions
565 x 546 x 1164 mm
 

TWB SPECIFICATIONS
Width x Depth x Height (mm)
(without fittings)
565x546x1164
Weight (kg)
80
Approved Decibel Level under normal operating conditions (dB (A))
<70
Carbon filter (internal)
Carbon Block 10"
Sediment cartridge (internal)
10" PP 5µm

WATER SUPPLY SPECIFICATIONS

Water type
Potable
Maximum hardness (°F)
30
Maximum temperature (°C)
30
Minimum inlet flow rate (l/h)
1000
Maximum inlet pressure (bar)
6
Minimum inlet pressure (bar)
1

POWER SUPPLY SPECIFICATIONS

Power supply type
MONOPHASE + GROUND
Voltage (V)
230
Frequency (Hz)
50
Adsorbed current (A)
5
Power (W)
550W (TWB 150/300)
750W (TWB 450/600)
Fuse type electronic board
F8A

PERMEATE WATER SPECIFICATIONS

Maximum capacity at 15°C (l/h)
100 – 400
Recovery (%)
40

CAPACITY AND SUBSTITUTION FREQUENCY

Filter with active carbon (l)
3 months
Sediment filter
3 months
R/O Membranes
UPON CLOGGING
Vane pump and solenoid valve
2000 hours

ENVIRONMENT SPECIFICATIONS

Maximum relative humidity (%)
90
Minimum external temperature (°C)
3
Maximum external temperature (°C)
40