THE MOST COMPACT AND COMPLETE
It's complete and performing. The most "slim" model of the "easy" family. Although its reduced sizes, it doesn't lack in functionality and performances. The control electronics, the inner prefiltration Profine®, the flow rate of 90 l/h and its reliability place it in professional reverse osmosis system sector.
It is as good as its bigger "sisters"!
PRICE: INCREDIBLE!
It's the most competitive in market in equal performances. This characteristic allows to satisfy every demand in professional field even where a treatment system is regarded as a too costly option but necessary.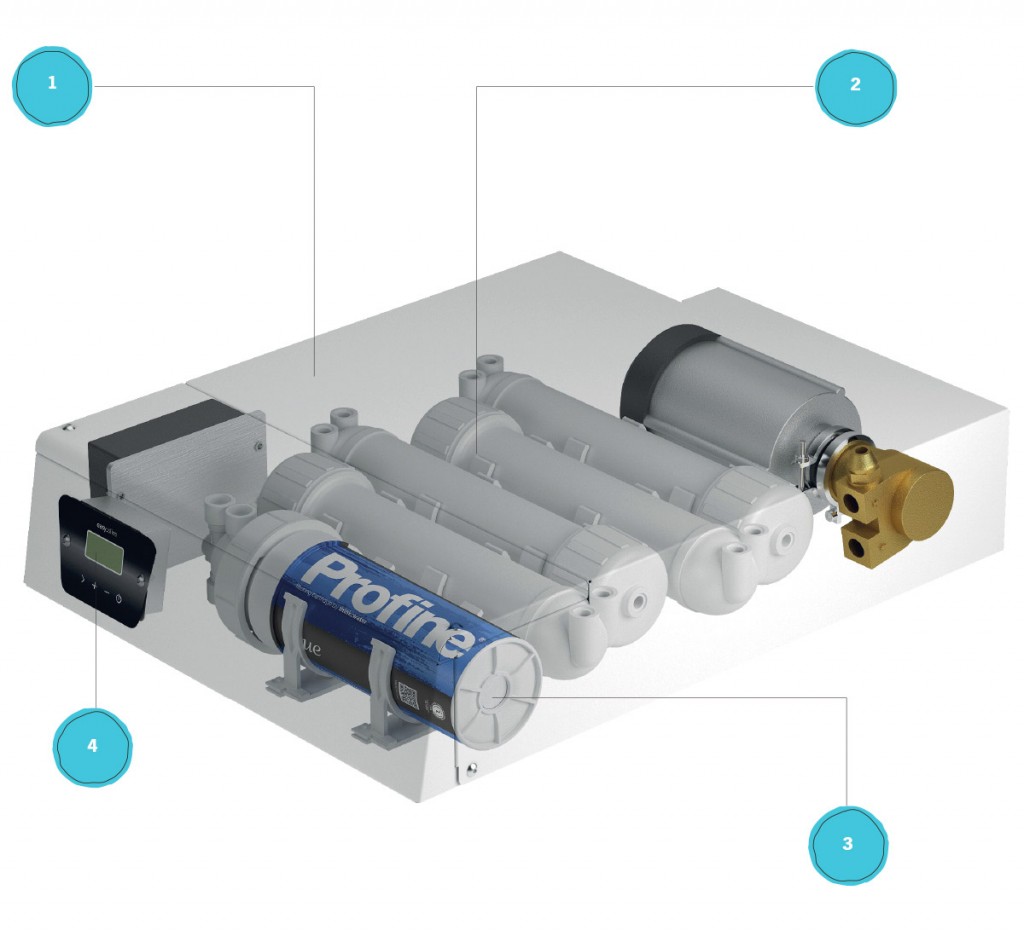 1. SIZES: VERY MODERATE!
It could be placed everywhere because of its reduced encumbrance (433x550x118 mm). It will never be a burden because it is practical, handy and easy to install because it weights only 16kg. The possibility of removing completely its upper cover and an extremely orderly hydraulic circuit (due to Think:Water block) give an easy activity in maintenance.
2. PERFOMANCES: UNIQUE!
Easy:Slim has a flow rate of 90 l/h at 15°C, a 95% typical rejection. Recovery ratio is 40%.
3. MAINTENANCE: EASY!
Easy:Slim has a system of high quality Profine® prefiltration with a quick connection. The only user activity of maintenance, that you will do, is to change used-up cartridge with a quarter of rotation.
4. ELECTRONICS: IT'S ALL RIGHT!
Setting your own configuration is very easy, it's possible to read conductibility, filter capacity and operation hours from set up. Malfunctioning alarms are on display and sound.
TECHNICAL SHEET
EASY:SLIM
Reverse osmosis system, maximum flow in the smallest dimensions.
Applications
Every industrial and professional applications Ho.Re.Ca., pharmaceutical, cosmetic, food industry, chemical, analysis. Dish/glass washers with atmospheric boiler and rinse pump. Max consumation 3 l each 2 minutes.
Electronic control
Inner perfiltration Profine®
flow rate of 90 l/h at 15°C
230V 50Hz
Connections
in 3/4"M – BSP
out 3/4"M – BSP
Drain
6 mm quick fitting
Dimensions
433 x 550 x 118 mm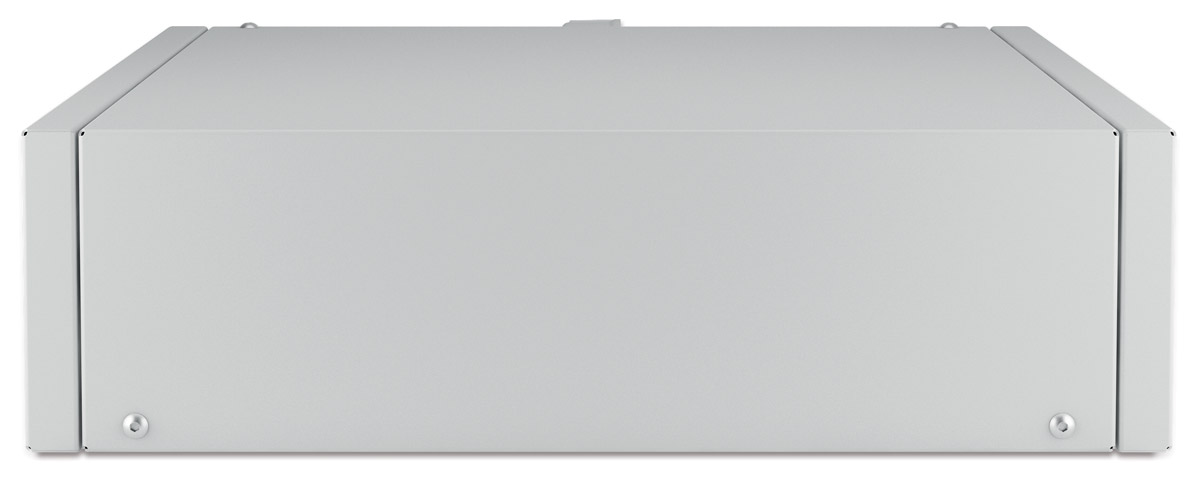 EASY:SLIM SPECIFICATIONS
Width x Depth x Height (mm)
(without fittings)
433x550x118
Weight (kg)
16
Approved Decibel Level under normal operating
conditions (dB (A))
<70
Membranes (no. 4)
TWA6A1
Carbon filter (internal)
PROFINE® BLU small

WATER SUPPLY SPECIFICATIONS

Water type
Potable
Maximum hardness (°F)
30
Maximum temperature (°C)
35
Minimum inlet flow rate (l/h)
300
Maximum inlet pressure (bar)
6
Minimum inlet pressure (bar)
1

POWER SUPPLY SPECIFICATIONS

Power supply type
MONOPHASE + GROUND
Voltage (V)
230
Frequency (Hz)
50
Adsorbed current (A)
1.5
Power (W)
150
Fuse type electronic board
T3.15

PERMEATE WATER SPECIFICATIONS

Maximum capacity at 15°C (l/h)
90
Recovery (%)
40

CAPACITY AND SUBSTITUTION FREQUENCY

Carbon filter PROFINE® BLUE small (l)
10.000
R/O Membranes
UPON CLOGGING
Vane pump and solenoid valve
2000 hours

ENVIRONMENT SPECIFICATIONS

Maximum relative humidity (%)
90
Minimum external temperature (°C)
3
Maximum external temperature (°C)
40